Helping horses and riders create true partnerships
Qualifications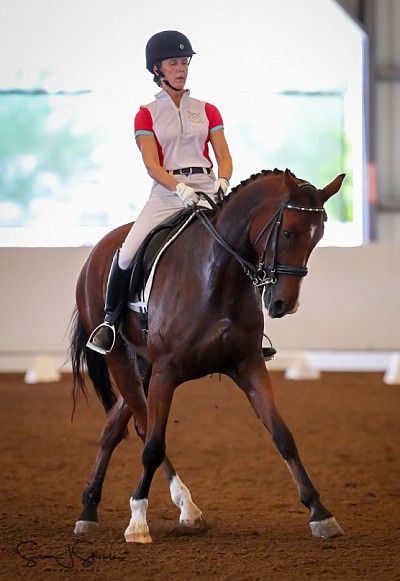 Wrenegade GCF competing at 3rd Level
USDF T-4 Certified Trainer
USEF "r" dressage judge
USEF "R" Western Dressage judge

USDF Bronze and Silver Medalist 
(and half way to Gold!)
All scores earned on horses Mary
has trained from Training Level on up
Experience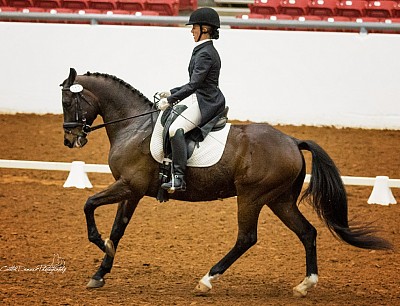 Mary competes FEI horse Starrs and Stripes
Mary has over 30 years of professional experience working with horses and riders of all breeds and disciplines.  She rode saddle seat in her early youth and then went on to compete in hunter/jumper and eventing divisions.  In her early 20s she discovered her passion for dressage and trained her first dressage horse, an Appaloosa, up the levels to Prix St. Georges to earn her USDF Bronze and Silver Medals.  Her next mount, an Arabian, was also an unlikely dressage candidate.  He started his dressage career with Mary at the age of 10 and was the IAHA Regional Champion at Prix St. Georges by the age of 14.  Since those early days, Mary has trained a large variety of horses to numerous open and breed specific titles.  She is currently preparing to compete her 18 year old Oldenburg gelding, Starrs and Stripes, at Grand Prix, and her 11 year old Hanoverian gelding, Wrenegade, at Prix St. Georges.  Mary is very proud to have earned her USDF medals on horses she's started and trained up the levels herself, and she is currently half way to her Gold Medal with Starrs and Stripes.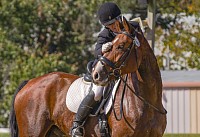 Mary pleased with Wrenegade's performance!
Systematic Training for Horse and Rider
Mary believes in a system that addresses the horse/rider combination as a whole.  A horse cannot perform under a rider that is out of balance or lacks understanding of the biomechanics of how a rider's aids interact with the horse.  Equally important is helping a rider to understand how to effectively be the trainer of their horse (not just the rider) given the skill set they currently possess.  Mary has helped numerous riders over the years develop their training and riding skills to the point where they were able to bring their own horses up the levels.
Visit my Facebook page at www.facebook.com/marymahlerdressage for the latest reviews and updates!